The Zoopness: People did not like it here
Greetings from the frontier of the apocalypse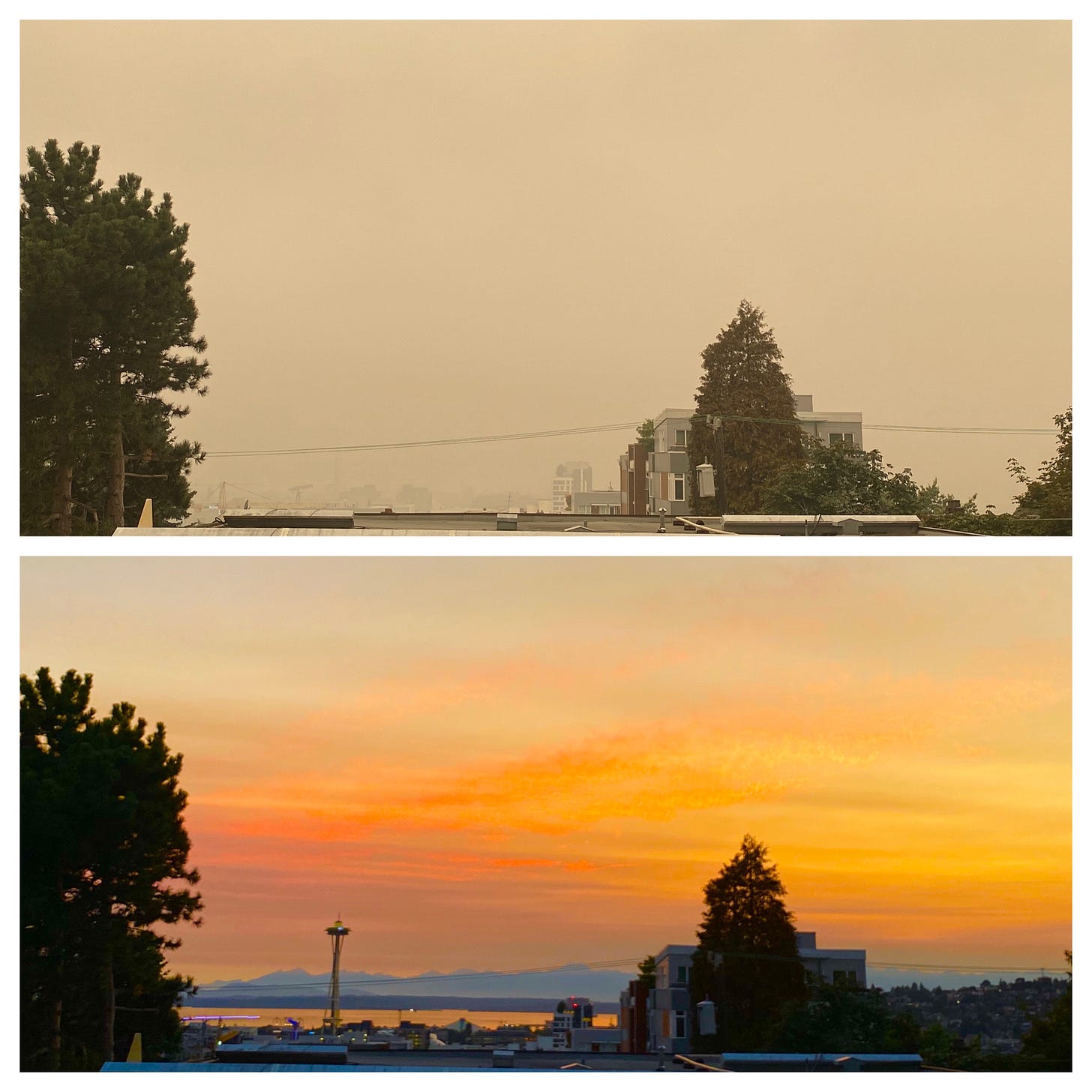 The view from my window three days ago, and just now.
---
The crucified planet Earth,
should it find a voice
and a sense of irony,
might now well say
of our abuse of it,
"Forgive them, Father,
They know not what they do."
The irony would be
that we know what
we are doing.
When the last living thing
has died on account of us,
how poetical it would be
if Earth could say,
in a voice floating up
perhaps
from the floor
of the Grand Canyon,
"It is done."
People did not like it here.
–Kurt Vonnegut, Requiem
---
I don't know how to make sense of this morning. The predicted temperature in Seattle today was 80 degrees, and it's 50 degrees outside because the sun can't break through the smoke. It doesn't really seem safe to go outside.
I've been thinking all week about the people who created disaster/Armageddon movies, and how right they were about what it would look like. People walking around in masks. Smoke. Bewilderment. Seattle right now looks like End of Days, and I know we have it better than most cities on the west coast.
Notre Dame is about to start its football season in the midst of a pandemic that is spread by close contact and heavy breathing. I didn't think the Four Horsemen of the Apocalypse would be quite so literal, but it's 2020 and we have no capacity for nuance. I mean – the US Government admitted this summer that it has a warehouse full of UFOs comprised of technology that can't be produced on Earth and we didn't bat an eye. Some days I pray for the aliens to come – give someone else a shot at running our planet, because as a species humans didn't really seem up to the task. We sacrificed our home for profit and power.
But all of my favorite poets talk about how we have an obligation to seek joy, regardless of our circumstances, because that's what God wants. To keep digging until we find something beautiful. What does that mean on a day like today? What's are the differences between distraction, denial, and delight?
I only watched one night of the Republican convention a few weeks ago, and even though I shouldn't have been, I was still surprised by the version of America they described. They put forth a vision of America I didn't recognize, where coronavirus was never that bad, the federal response to it was outstanding, and where Donald Trump cares about anything besides himself. I watched the night that Pence spoke, and it took him 14 minutes to mention the pandemic (I timed it; he also never mentioned George Floyd or Breonna Taylor), and most of the speakers before him didn't mention it at all. In 2018, Trump gave a speech where he said "what you're seeing and what you're reading is not what's happening" and everyone compared it to 1984 – "The party told you to reject the evidence of your eyes and ears. It was their final, most essential command." That's what it felt like. They were inviting me to deny everything I had seen and experienced and believe this fantasy instead.
In the same way a global pandemic that experts warned about for years played out pretty much exactly the way they predicted, so is global warming. I'm reading a book right now about disasters and catastrophes throughout time, and why people often don't want to look at what's happening until it's too late. Our greed and our fear and our short memories and limited capacity for horror keep us rearranging deck chairs on the Titanic. In all of these disasters – Chernobyl, the Challenger explosion, 9/11 – there were truth tellers warning of the risks and what could happen if we didn't address them. No one listened.
Coronavirus has changed how I think about global warming. The climate change we see now is a result of our carbon emissions from 40 years ago – that seems to be the time delay before we truly feel the effects. The global population 40 years ago was 4 and a half billion people. It's almost double that now. Imagine the horror that's in store if we don't figure something out – quickly. It's easy to ignore the threats that are invisible and everywhere – viruses, and greenhouse gasses, and division.
Rich people and institutions will be able to mitigate the impacts, at least for now. Kids born into rich families can go to schools that have the money to take proper precautions, while kids born into poor families find themselves in a very different situation. Universities make billions of dollars on the backs of uncompensated athletes who are forced to play in unsafe conditions because they have communities depending on their financial success. Those with wealth can move to places that haven't sunk into the ocean or burned to the ground. What about everyone else?
Rich or poor, no one in Seattle is going outside today to enjoy what should have been a perfect September weekend. These are usually my favorite weeks of the year here – the blue sky is at its brightest, and there's a chill in the air at the end of the warm days. These weeks usually mean football, and back to school, and the beautiful transition from summer into fall. People were walking down the street in gas masks yesterday.
The silver lining I'm holding onto right now is that Mother Earth is forcing us to take a look at what we've done – and just in case we forgot how high the stakes are in November, all we need to do is look out the window and believe our own eyes – as long as we still remember how to.