The Zoopness: Love in the time of coronavirus
When despair for the world grows in me, and I wake in the night at the least sound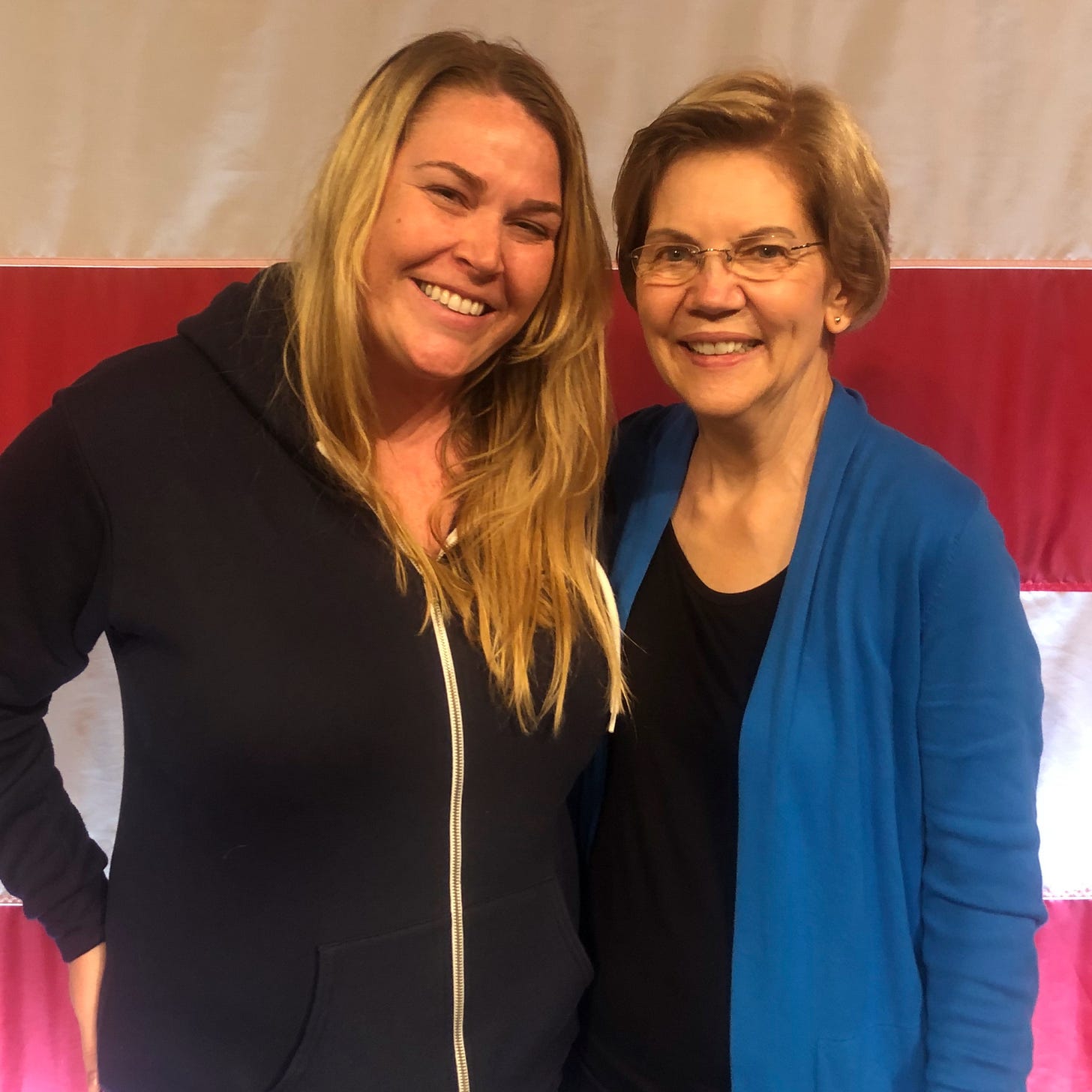 Last Saturday night, I was meeting Elizabeth Warren and handing her an apology letter. I'm sure it won't be surprising to anyone reading this that the letter was five pages long (and sealed in a card that said, "you're the cat's meow"), so I'll spare you the details – but the gist of it was:
A year ago, I would tell anyone who listened why I thought you shouldn't run for president. We needed you in the Senate, we couldn't have another woman candidate right after Hillary's loss, the electorate was too sexist, and you were too polarizing. Twelve months later I'm convinced beyond a shadow of a doubt that you are the candidate the Democratic Party needs and the president this country needs. I'm sorry it took me so long to figure that out. Thank you for making me feel hopeful, and for giving my nieces an example of what it means to be a strong, smart, determined, fierce woman in a world where those qualities aren't always celebrated.
The letter had been sitting in my house for months, but I was too lazy to put it in the mailbox. Turns out I'm glad I didn't mail it, so that I could look in her eyes and deliver my message in person. It seems like her candidacy probably is over after tonight, and even though I still believe she would have been the best president, I'm ready to get enthusiastically behind whoever can beat Trump. Twelve months ago, I didn't imagine a scenario where I didn't vote for Joe Biden, and even though I didn't end up voting for him in the primary, I'll be glad to vote for him in November. The primary has felt like arguing over cereal preferences while we're swallowing spoonfuls of broken glass and I'm ready to move on.
In that spirit, let me just say that it's been a really stressful week, and I spent the day stocking up on Armageddon-worthy supplies of cat food and sparkling water. My mind is frazzled and my nerves are jumpy. I've tried so hard this last week to do the things that I've been learning over the past few months seem to help ease my anxiety and temper my worry. I read poems in the morning, I went for walks, I spent less time on my phone and more time in hot tubs. I went for long drives with loud music. I drank less coffee and went to bed early and shamelessly did some deep breathing in public. I sat by a fire and looked up at the stars, usually my fastest, most foolproof route to peace and presence.
And none of it worked. It's Saturday night and I'm sitting on my couch and feeling like a bit of a nervous wreck (having cable news on in the background definitely isn't helping). But I just now remembered this poem I heard someone read earlier this week, The Guest House by Rumi, and it made me want to write to you and pass it on:
This being human is a guest house.
Every morning a new arrival.
A joy, a depression, a meanness,
some momentary awareness comes
as an unexpected visitor.
Welcome and entertain them all!
Even if they are a crowd of sorrows,
who violently sweep your house
empty of its furniture,
still, treat each guest honorably.
He may be clearing you out
for some new delight.
The dark thought, the shame, the malice.
meet them at the door laughing and invite them in.
Be grateful for whatever comes.
because each has been sent
as a guide from beyond
__
I feel this constant pressure to turn my pain into something productive. This feeling I can't shake that my suffering is only valuable and acceptable if I'm able to have perspective on it even at the same time that I'm experiencing it. I read this thing recently about how we can't live the story and tell the story at the same time. I also just finished Jessica Simpson's autobiography (don't judge me! It was legitimately good and inspiring and I can't believe I'm saying that but I am) and she said something about how women are only kind to themselves in hindsight – and that felt really true to me. I'm usually telling myself a story about what's happening to me as it's happening, and that story is usually not very generous or kind. Twenty years from now, I'll probably look back at this crazy week and feel some compassion for myself. Wow, that does sound stressful! So why is it so hard to just let myself feel an ounce of that compassion now? I'm honestly not sure.
But I think writing you all tonight feels like a (not so) happy medium between trying to practice radical hospitality to my sorrows and dark thoughts, and also allowing myself to try to find a way to make my hurt useful.
The idea that we're not able to live the story and tell the story at the same time seems like a very apt description to me of what it feels like to be trying to survive the Trump presidency. It feels like this impossible tension of trying to make it through every increasingly crazy day, and also remember that what's happening is unconscionable and terrifying.
Something broke in me (again) this week when Trump called coronavirus a hoax. The narcissism of this man downplaying the threat of a global pandemic to help his ego and reelection chances is truly astounding to me. It shouldn't be, I know. His idiocy has killed or traumatized how many kids at the border?
But we're looking at projections of 40-70% of the world getting coronavirus this year, and with a fatality rate of 1-2%, that's tens of millions of people who might die. One of the reasons the Spanish Flu, which killed 50 million people around the world and which corona is getting compared to, was so bad was because the government downplayed its risk to increase morale. John Barry wrote a book about the 1918 flu (TLDR article here), in which he said:
"The most important lesson from 1918 is to tell the truth. Though that idea is incorporated into every preparedness plan I know of, its actual implementation will depend on the character and leadership of the people in charge when a crisis erupts."
He wrote this in 2004.
In 2004, when Donald Trump being president was only the thing that dystopian reality tv nightmares were made of. Now our country is dependent on his character and leadership to get us through this. I'm starting to understand as I write this why some early bedtimes and om breaths didn't cure my existential dread this week. We've never needed calm leadership, trust in science, and global cooperation more. The people who have done everything they can to break our government and faith in institutions (and each other) are in charge. We're just completely fucked.
And maybe there's absolutely nothing constructive that can be done with a feeling like that. But for tonight, here's my best shot:
If we can't count on our government to care about us or take care of us, let's take care of each other. Starting now.
There's definitely a chance that this pandemic is not as bad as experts are predicting. But from everything I've read, it seems like the choices that you and I make right now are what will determine whether or not that's true. This article is the best resource I've seen about why we should take this threat seriously, and what we can do to be good pandemic citizens and neighbors. Don't hoard things you don't need. Get your flu shot. Wash your hands. Don't go out if you're sick and able to stay home. Don't be a burden to our health care system by being careless.
The main message is essentially the same as what Bill Gates said in the New England Journal of Medicine yesterday: let's hope this isn't the once-in-a-century pathogen that we've been afraid of, but we should assume that it is until we know otherwise.
Which means that everyone who has the luxury of a functioning and healthy immune system needs to be doing all that they can to help those who don't. Think of the person you love the most who is most vulnerable to this disease and imagine what you would do to keep them safe. Let's do that. Let's be good neighbors and citizens even though our idiot president is telling us we don't need to be. Let's use the privilege of being healthy for good.
__
There's a chance I'll look back at this version of myself twenty years from now and feel more embarrassment than compassion. Maybe I'll find this email in some folder somewhere and cringe, the same way I do at the emails I wrote when I studied abroad during college and thought I understood how the world worked. Maybe this really will turn out like Y2K and we'll all be fine. I hope so. But there are now 100,000 cases in 59 countries and 3,000 people have died. So we're not really all fine already. And when you're looking at scenarios of tens of millions of people in Africa dying because they don't have access to any sort of health care infrastructure – they had the bad luck of being born poor – it seems like erring on the side of compassion and love and consideration and kindness will be a choice that none of us regret. Worst case scenario for us is that we end up with some bottled water we don't need and learn better hygiene habits. But given the worst case scenario for a lot of other people, that seems like a small price to pay.
---
What I've Been Up To
It was a strange feeling putting these photos together, because they all pretty much involve being with a lot of people and traveling, two things I love, and I'm not sure when I'll do those things again. I'm especially grateful now for the pasta I got to eat in Italy a few weeks ago.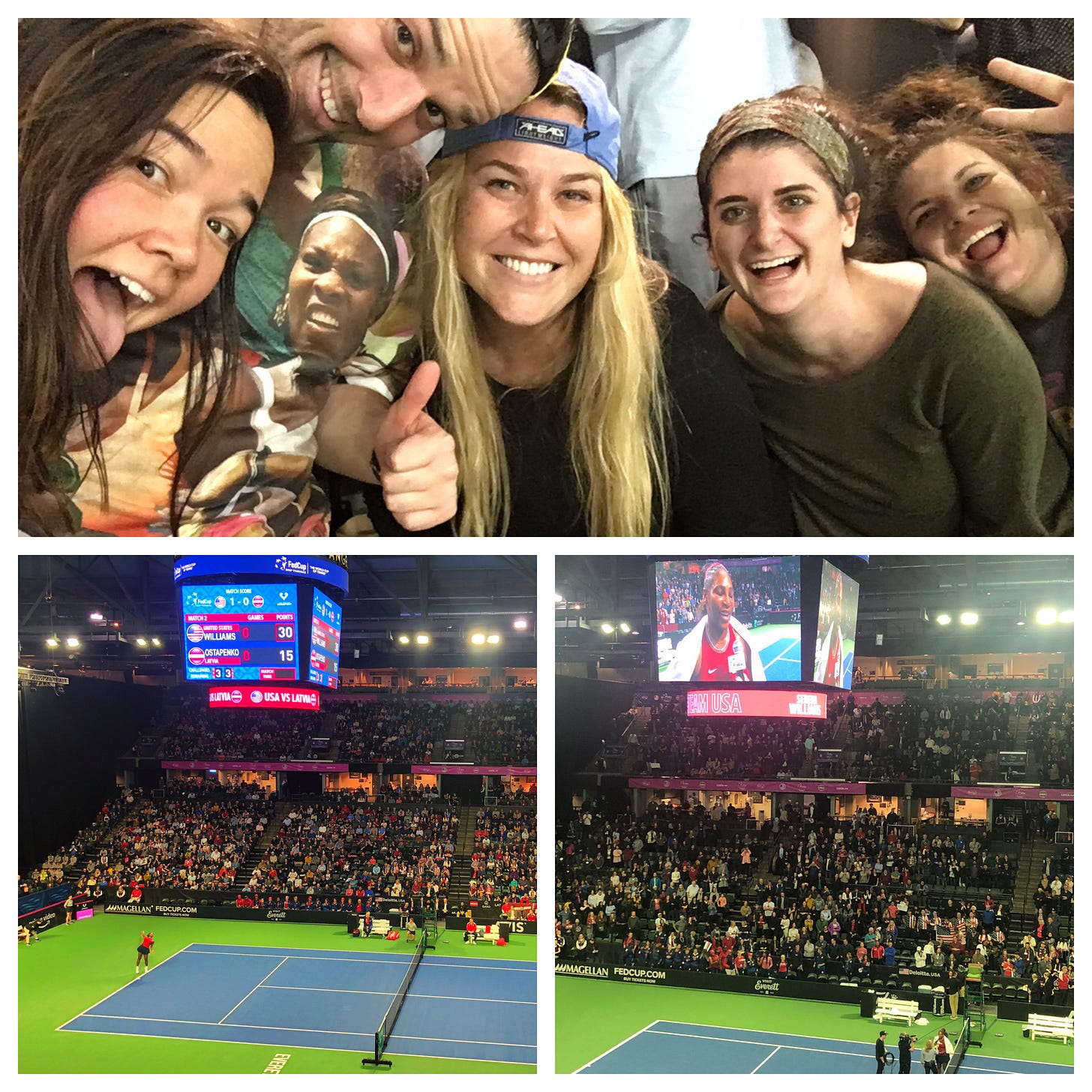 We went to go watch Serena play in the FedCup in Everett and hearing her give a trademark roar after a tiebreak point was pretty much just everything.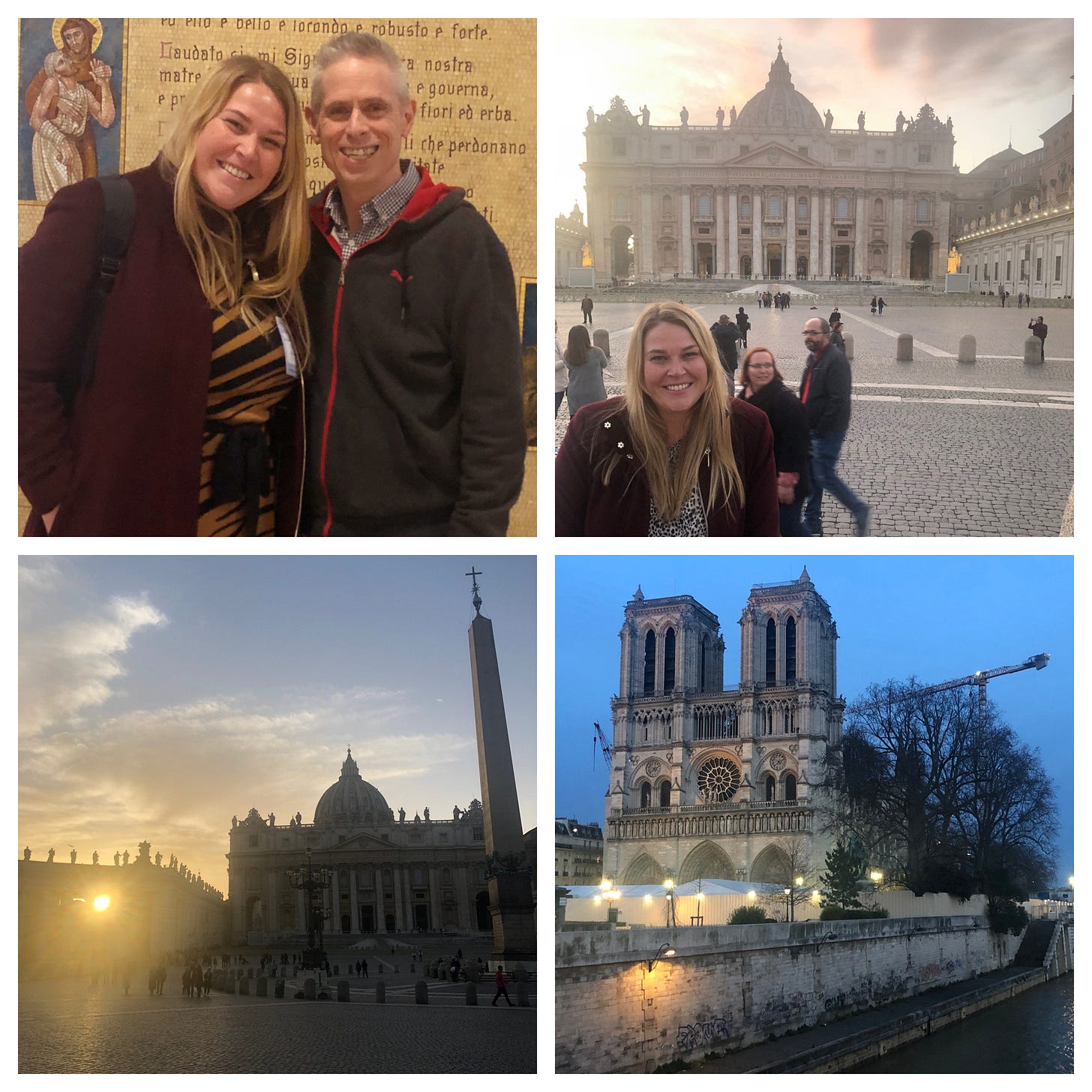 I was in Rome and Paris for work, and had a magical evening in St. Peter's Square and got to catch up with Fr. Mike (my first boss after college). Rome is still my favorite city in the world to visit, and seeing burned Notre Dame in person was more upsetting than I expected.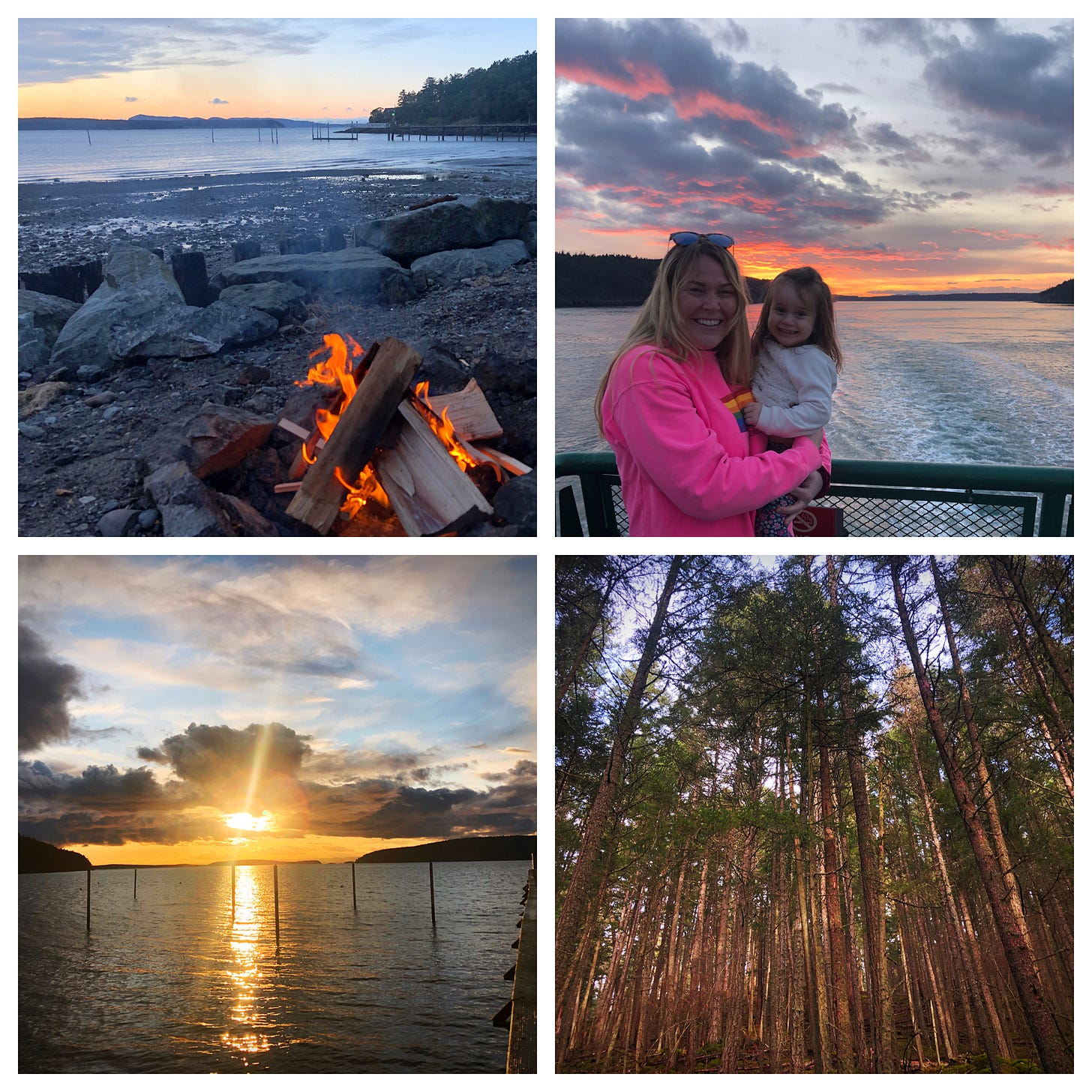 President's Day weekend I was out on Orcas Island at Doe Bay and it exceeded my (very high) expectations going in. Sunsets like that in February are a gift.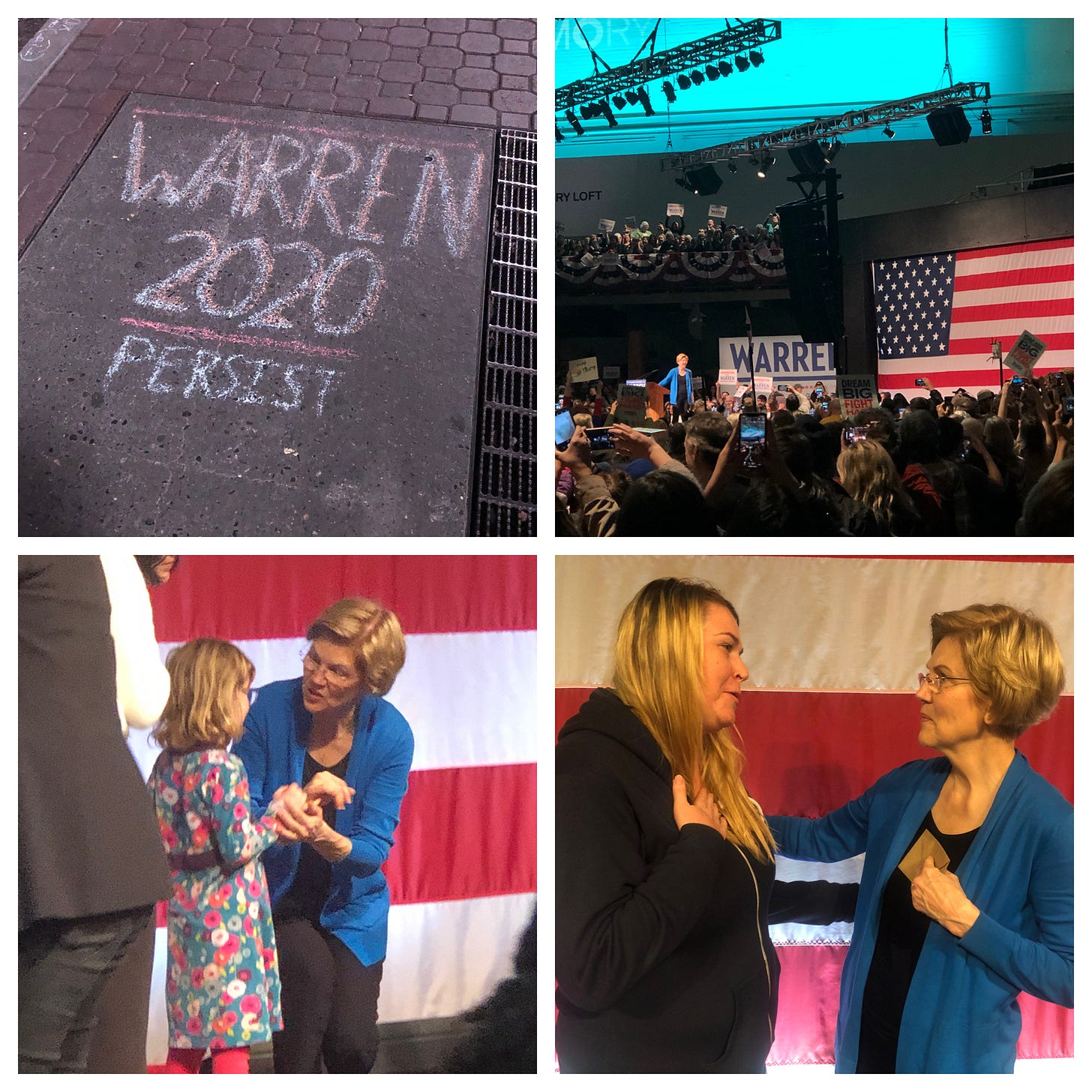 In case you wanted to see the photo of me handing Elizabeth the cat card and confessing all my political sins.
---
Best Things I've Read