The Zoopness: "Be ignited, or be gone"
What to do when the terrible thing you wish for comes true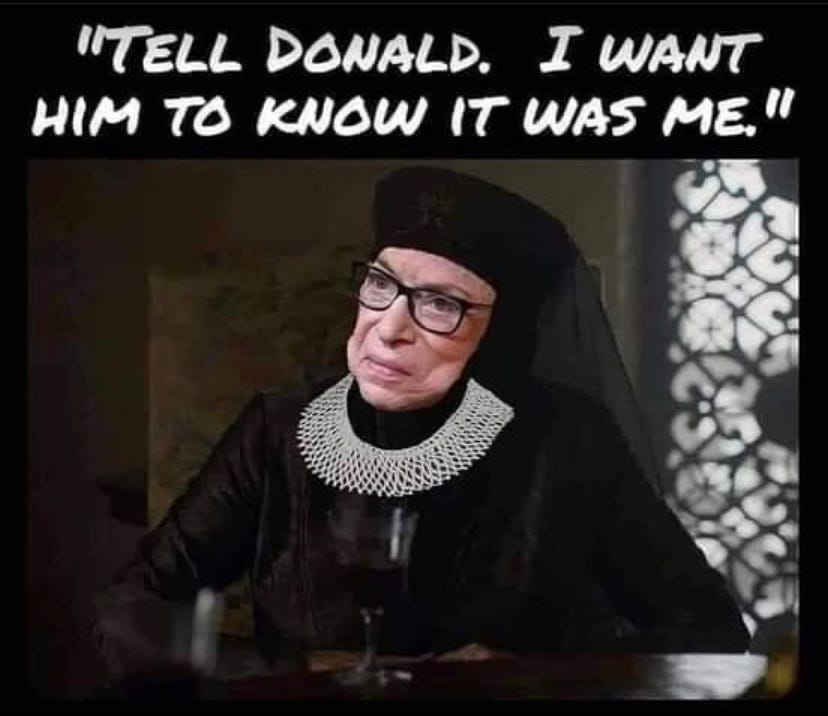 I read this crazy article last week that I can't stop thinking about – how there are certain strains of flu viruses that make people more social in the 48 hours between when they're infected and start showing symptoms. The virus basically hijacks their hormones and convinces them they want to have a dinner party or go to a bar, just so it can spread itself before the host realizes it doesn't feel well and stays home.
Everyone's been saying that the only fitting ending to 2020 would be the alien invasion – and now I'm at least 50% convinced that the aliens and covid are actually just the same thing. The monster/killer/villain is always already inside the house, right? (Or depending on how long you've been in therapy – the thing you've always been afraid of is actually just your shadow). 😊
But I'm reconsidering the ending now. Surely the last 36 hours have to be the climax, right?
How many jokes have we all made about Trump getting the coronavirus over the last 7 months? And now he fucking has it. HE HAS IT.
I don't think the shock has worn off, to be honest. Like everything this year, this feels both utterly inevitable and yet still somehow surprising. It also seems to be proof that the administration's covid response wasn't led entirely by malice, but by mindboggling. lethal incompetence. They truly did not understand how this virus worked, or they didn't believe it, despite the evidence. I don't know which is worse. I also don't remember now what I'd thought I'd feel like when this inevitably happened – I guess some sort of satisfaction and happiness and vindication?
And maybe I feel a little of those things. But it's different to wish ill health on someone in the abstract, and then have it happen in reality.
I feel conflicted more than anything. I'm not going to pretend there isn't something reassuring about there being consequences for our actions. You can only tempt fate, and deny science, so many times before the facts (and karma) have their say. What's that expression? A lie travels around the world while the truth is still putting on its pants or something? But that implies that the race is only once around. Eventually the truth will catch up, if given enough time. We learn new things about covid every single day, and there are definitely hypotheses that have been proven wrong about. But the basics have held true since the beginning – this is a largely airborne virus that is spread through close contact and can be prevented with masks and keeping our distance.
Trump has always embodied this toxic mix of arrogance and stupidity, a cocktail throughout history that has shown to have pretty dire consequences. He killed so many people with his lies and willful  ignorance– it seems only fair that this is the consequence. Like some sort of order and logic have been restored. Validation for people who put their faith in science and scientists. John sent me a meme that said RBG just successfully argued her first case before God – and there is absolutely something about this that feels like divine justice. Yom Kippur is the season for atonement, after all.
But I also can't ignore the fact that I don't believe God is infecting people with coronavirus (aliens, maybe – God? No.). Anne Lamott wrote a lot during the Bush Administration about how the tenets of her faith only held true if she could believe that God loved Dick Cheney as much as her grandson. That was the mystery of grace. And I remember feeling both offended and convicted by the idea. It feels so wrong. But as Ramona learned on this season of RHONYC, feelings aren't facts. The fact is that I believe God loves all of us, equally and eternally. Maybe that belief is wrong and Dante's hell fires are real. Some days I hope they are. But that's not my belief system. The fact is that for better or worse I believe God loves Donald Trump as much as he loves Charlotte and Hattie. I don't believe in loopholes in this particular arena (except maybe for Mitch McConnell, but I'm pretty sure he's a cyborg and not a person).
This doesn't mean my actions always match by beliefs. Usually they don't. It's hard to be a good witch all the time. I deeply want to believe that RBG will be haunting Donald as he roasts in a tanning bed in hell. But I don't believe that, as much as I'd like to. Cassie told me this morning about the idea of looking at the world and its people like they all have a tag on them that said, "Made by God." How differently would it be if we acted like we actually believed that?
She and I were also talking about how these ideas we dismissed before as tired clichés feel like essential bedrock truth now. One day at a time. God grant me the serenity to accept the things I cannot change, the courage to change the things I can, and the wisdom to know the difference. Simple prayers on coffee mugs that my sanity seems to hang on now.
One of the other clichés that feels increasingly true to me the older I get is that hurt people hurt people. Pain that is not transformed is transmitted, as Richard Rohr would say. Almost every time we feel or encounter anger, there is pain and/or fear underneath. Anger is a first order emotion – and sometimes we never get past it. But it's always just a broad placeholder for something more specific that's harder to name… the wounded animal that lashes out.
I don't think pity is a lifegiving emotion – who likes to be pitied? It speaks of some sort of hierarchy and judgment that make us uncomfortable. Pity seems to imply someone is looking down on us. But it's the most generous feeling I can muster when it comes to Donald Trump. He is clearly a broken, sick man who unfortunately was met with positive reinforcement every time he acted out. People responded to his anger, as manufactured and hollow as it was, because they felt angry too.
I read this article about how humans are "prospective creatures." A person spends between 30 and 50% of their time thinking about the future, the only creature we know of that does this. Meditation can help, but we're still pretty hardwired to be thinking about what's ahead. This can work to our benefit when the future looks full of possibilities for improvement and when we feel like we have some control over making those improvements real. Bit when that's not the case – when the future looks scary and out of our control – pessimism takes hold and we start to suffer.
I'm scared about the future right now. What Trump said in the debate made me fearful for the survival of our democracy. He bolstered white supremacists, sowed doubt into the outcome of the election, and sounded like pretty much every dictator I've ever studied before they start inciting violence under the guise of law and order. I'm not cut out for civil war you guys. What if we end up looking back fondly on 2020 – like, remember when it was only that bad? I know that the story of humanity is one of progression --- slowly, slowly we march toward more equality and representation and human rights for everyone. On par, we're getting better. I know this. But sometimes we only make progress by backsliding – experiencing what it actually feels like to lose the things we took for granted. Like fresh air, and fair elections.
Hence the allure of one day at a time and the serenity prayer. As my therapist likes to remind me, I am not personally responsible for the outcome of this election, and neither are you.
And as embarrassing as it feels to admit this -because it's so fucking cheesy and just can't possibly be true but I also kind of need it to be true because I don't know what else to believe – love has to be the answer, right? There's a mural in my neighborhood with the MLK quote "Love is the only force capable of transforming an enemy into a friend." Every time I drive past it, I try to think of other examples that prove him wrong but can't come up with any. More love. It's what the Dixie Chicks and Hillary Clinton and Jesus have been saying for a long time.
What that means in the case of Donald Trump and coronavirus – I don't know. I still feel this desire for righteous vengeance, and my horoscope app today said I should give myself permission to feel all my emotions. But it also told me that we're in the midst of a cosmic confluence the next three days that will heighten feelings of powerlessness, and that tried and true strategies of pushing through/over-analyzing/denial won't work. The only path is to surrender and let go.
And at this point, letting as astrology app inform my response to Donald Trump being hospitalized with an untreatable (potentially alien-created) virus a month before the election in the midst of a pandemic seems as good of an idea as any. Science is real, but it can only take us so far. What's next?
---
What I Have Learned So Far
Meditation is old and honorable, so why should I not sit, every morning of my life, on the hillside, looking into the shining world? Because, properly attended to, delight, as well as havoc, is suggestion. Can one be passionate about the just, the ideal, the sublime, and the holy, and yet commit to no labor in its cause? I don't think so. All summations have a beginning, all effect has a story, all kindness begins with the sown seed. Thought buds toward radiance. The gospel of light is the crossroads of —indolence, or action. Be ignited, or be gone.
~Mary Oliver
---
The best things I've read:
"How is arguing with Trump voters working out for you?" The best article I've read this entire election season.

If an equitable, non-violent society is our goal, ideologies that seek to dismantle unjust power structures such as white supremacy and patriarchy are unequivocally better than those that do not. There is no moral equivalence between the neo-Nazi and the Black Lives Matter protester, or the feminist marcher and the men's rights activist. Some ideas are superior to others.

But even if your ideas are superior, I am asking you to consider that you did not arrive at them because of your innate superiority. Depending on your level of social and racial privilege, you arrived at them because of your life experiences, your information sources, your community influences. Even a psychological predisposition toward rational thinking, if this a valid possibility, is just a bit of good fortune you did nothing to earn.

If you had been born into the Phelps family, would you have thought your way out of Westboro? At what age? Twelve? Eighteen, when you left home? Twenty-six, by way of social media? Forty-four, better late than never? How about never? For many the answer thus far is never.

That's an extreme example, I hear you say. Children of cults are one thing, but a Trump voter has free will in their decisions.

True. Yet if you'd been born white, in a homogeneously white place, with Fox News on every television and Rush Limbaugh on every car radio for your entire life, would you be a liberal or even a centrist today? Maybe, but not without knowing the hard truth that people who think monstrous things often are not, at their core, monsters.

Notre Dame's Leadership Is Failing Its Students: I think the carelessness Fr. Jenkins displayed this last week caused irrevocable harm to Notre Dame's brand and that he should be fired. To provide political cover to this president, at this moment in our history, is unconscionable to me; and to not wear a mask in the middle of the pandemic — to set that sort of example -- makes him unfit to lead. And I don't think I need to tell you how I feel about Brian Kelly.

Advice from Richard Rohr on abstaining from media during the election as an act of spiritual practice (sorry - I can't find a link so pasting the whole thing):

Some simple but urgent guidance to get us through these next months:

I awoke on Saturday, September 19, with three sources in my mind for guidance: Etty Hillesum (1914 – 1943), the young Jewish woman who suffered much more injustice in the concentration camp than we are suffering now; Psalm 62, which must have been written in a time of a major oppression of the Jewish people; and the Irish Poet, W.B.Yeats (1965 – 1939), who wrote his "Second Coming" during the horrors of the World War I and the Spanish Flu pandemic.

These three sources form the core of my invitation. Read each one slowly as your first practice. Let us begin with Etty:

There is a really deep well inside me. And in it dwells God. Sometimes I am there, too … And that is all we can manage these days and also all that really matters: that we safeguard that little piece of You, God, in ourselves.

—Etty Hillesum, Westerbork transit camp

Note her second-person usage, talking to "You, God" quite directly and personally. There is a Presence with her, even as she is surrounded by so much suffering.

Then, the perennial classic wisdom of the Psalms:

In God alone is my soul at rest.

God is the source of my hope.

In God I find shelter, my rock, and my safety.

Men are but a puff of wind,

Men who think themselves important are a delusion.

Put them on a scale,

They are gone in a puff of wind.

—Psalm 62:5–9

What could it mean to find rest like this in a world such as ours? Every day more and more people are facing the catastrophe of extreme weather. The neurotic news cycle is increasingly driven by a single narcissistic leader whose words and deeds incite hatred, sow discord, and amplify the daily chaos. The pandemic that seems to be returning in waves continues to wreak suffering and disorder with no end in sight, and there is no guarantee of the future in an economy designed to protect the rich and powerful at the expense of the poor and those subsisting at the margins of society.

It's no wonder the mental and emotional health among a large portion of the American population is in tangible decline! We have wholesale abandoned any sense of truth, objectivity, science or religion in civil conversation; we now recognize we are living with the catastrophic results of several centuries of what philosophers call nihilism or post-modernism (nothing means anything, there are no universal patterns).

We are without doubt in an apocalyptic time (the Latin word apocalypsis refers to an urgent unveiling of an ultimate state of affairs). Yeats' oft-quoted poem "The Second Coming" then feels like a direct prophecy. See if you do not agree:

Turning and turning in the widening gyre

The falcon cannot hear the falconer;

Things fall apart; the centre cannot hold;

Mere anarchy is loosed upon the world,

The blood-dimmed tide is loosed, and everywhere

The ceremony of innocence is drowned;

The best lack all conviction, while the worst

Are full of passionate intensity.

Somehow our occupation and vocation as believers in this sad time must be to first restore the Divine Center by holding it and fully occupying it ourselves. If contemplation means anything, it means that we can "safeguard that little piece of You, God," as Etty Hillesum describes it. What other power do we have now? All else is tearing us apart, inside and out, no matter who wins the election or who is on the Supreme Court. We cannot abide in such a place for any length of time or it will become our prison.

God cannot abide with us in a place of fear.

God cannot abide with us in a place of ill will or hatred.

God cannot abide with us inside a nonstop volley of claim and counterclaim.

God cannot abide with us in an endless flow of online punditry and analysis.

God cannot speak inside of so much angry noise and conscious deceit.

God cannot be found when all sides are so far from "the Falconer."

God cannot be born except in a womb of Love.

So offer God that womb.

Stand as a sentry at the door of your senses for these coming months, so "the blood-dimmed tide" cannot make its way into your soul.

If you allow it for too long, it will become who you are, and you will no longer have natural access to the "really deep well" that Etty Hillesum returned to so often and that held so much vitality and freedom for her.

If you will allow, I recommend for your spiritual practice for the next four months that you impose a moratorium on exactly how much news you are subject to—hopefully not more than an hour a day of television, social media, internet news, magazine and newspaper commentary, and/or political discussions. It will only tear you apart and pull you into the dualistic world of opinion and counter-opinion, not Divine Truth, which is always found in a bigger place.

Instead, I suggest that you use this time for some form of public service, volunteerism, mystical reading from the masters, prayer—or, preferably, all of the above.

You have much to gain now and nothing to lose. Nothing at all.

And the world—with you as a stable center—has nothing to lose.

And everything to gain.